Happy FriYay, my friends.  As you know, I've been pretty quiet on project renovation – and for good reason… but I've decided to break my silence and tell you things to know before remodeling.  Because I want you to learn from our experience… and I hope to save you some of the heartache, expense, and frustration that we have been through for the past few months.  We will be meeting with the inspectors this morning, so I should have a better idea of what this is going to look like going forward by the end of the day.  CROSS ALL THE THINGS FOR US.  (And yes… this is EXACTLY what they left our attic looking like… sigh.)
P I N I T
4 Things to Know Before Remodeling
1.  You (more than likely) need permits.  And (multiple) inspections. – To this day, I still don't understand why our original GC didn't pull any permits or schedule any inspections on our house.  It just doesn't make sense.  HOWEVER.  The City of Dallas requires permits BEFORE YOU PICK UP A HAMMER.  Before you move a wall.  Before you demo ANYTHING.  Before you replace a water heater.  Before you move plumbing or electrical wiring.  BEFORE YOU DO ANY SIGNIFICANT WORK ON YOUR HOUSE.  Find out what your city and state regulations are on permits and follow those instructions.    You know why you should follow those instructions?  Because not obtaining permits can invalidate your homeowner's insurance and your mortgage.  I know people complain about the permitting process… but consider yourself warned about the HUGE risk involved by not pulling permits.  And… in our case… don't rely on the professionals to tell you what the rules regarding permits are.  We had an architect, a GC, and numerous Master subcontractors on our job… no one told us that we didn't have permits – and because they were on all our invoices (except the last one) – we just assumed that permits and inspections were being taken care of.  Find out for yourself and insist on following the laws/code.  If a contractor doesn't want to pull permits, he shouldn't be in your house.  (Also… despite self reporting ourselves to the city, we still got to pay a fine of double what said permit should have originally cost.  YAY.)
2.  Find out if your contractor is (actually) registered with the city.  We decided to use a general contractor who my mom had used in the past.  He had his master plumber number on his invoices, and he had a registered builder number on his invoices as well.  We naively assumed that 1) my mom had done her due diligence on him and 2) that he was registered with our city because he had those numbers on his invoices.  Turns out, he wasn't registered with our city at all.  He was a master plumber, but he wasn't registered with our city as a plumber or a builder and he didn't have the necessary Home Repair license that is required either.  Check out those licenses before you let anyone do any work on your property.
3.  Don't pay anyone in full before the job is complete.  The saving grace in our problem with our contractor is that we discovered that he didn't pull any permits before we turned over the last payment.  That means that we have a (small) budget to work with to try and get our house properly permitted and inspected by the city.  This is going to come in handy because we will likely have to rip out quite a bit of drywall, tile, etc. to show the city what they want to see.  Obviously, if the work is shoddy and we have to rip out everything, I don't know what we're going to do… but as of right now… we hope that we have enough to get our house properly permitted and inspected and repair the issues that have already popped up due to poor workmanship.
4.  Trust your spidey sense (and have the work reviewed by another professional if you have any concerns).  Our contractor had asked us to walk our house one weekend and tag anything we felt like still needed to be addressed.  After using an entire roll of painter's tape and not finishing the house, my husband felt like the house wasn't ready for us to be reviewing and let the contractor know that.  We walked it with the contractor the following Monday, and he threw a fit about everything we brought up.  He was incredibly defensive.  My husband decided he would have someone else walk the job to make sure it looked right for the amount of $$ we were spending since our GC was being so weird, and when he told him that, he freaked out and immediately demanded full payment.  I couldn't figure out why he was so defensive, and as I was going through the invoices, I said to my husband, "Why is he so upset that someone is going to review his work?  He's been having the house inspected all the way through…"  The next morning we went to the permit office and found out nothing had been pulled on our house.  That was not a good day.  The people at the city were freaked out for us, we were freaked out, and we really didn't know what to do.  Despite all the frustration this has caused, my husband continually tells me that he's so glad I caught it now and not later on down the road when we were trying to sell the house.  If people are doing things on the up-and-up, they shouldn't mind people reviewing their work.  Even if it bruises their ego, it shouldn't be a deal breaker.  TRUST YOUR SPIDEY SENSE.
BUT WAIT… there's more!
5.  Since it's FIVE on Friday… I'm excited to share that we have at least three AMAZING Gates Millennium finalists and I love them all dearly!  Way to go #TeamASP!!  Here's hoping they all become Scholars!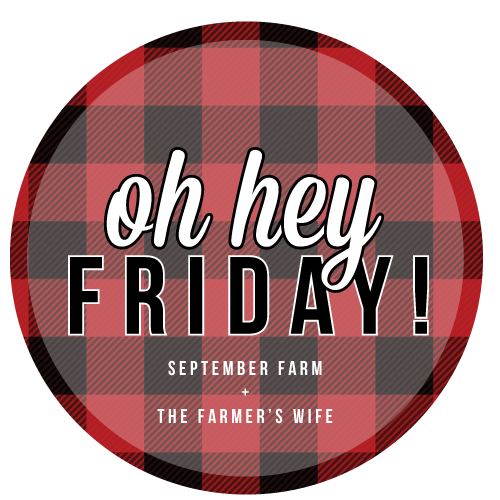 P I N I T link it up: karli + amy